Pennsic XLVI (2017) Archery Results
Middle-East-Ealdormere vs Everyone Else!
Our traditional Midrealm enemies were our allies this year, along with Ealdormere, contending against AEthelmearc, Atlantia and their allies. Some referred to the sides as the M-E-E team versus the A-A-A team. The Mid-East side swept all 3 populace archery war points, and took 1 of the 3 archery champion points. The targets were all a Norse theme this year. This was also the first time most of the target images were printed on vinyl, rather than card/paper, and they seemed to hold up well to all the shooting and to the occasional rain.
Populace War Points
(3 war points, shot over 5 days, August 6 thru 11, 2017)
Archers could shoot each of the 3 shoots up to 5 times this war. Shooting days were Sunday, Monday, Tuesday, Wednesday and Friday.
- Clout with Giant: Shots landing inside the square castle turret were worth 3 points; shots hitting the giant were worth 4 points; there was a "moat" at approximately 50 yards worth 1 point, with a moat monster in it worth 2 points; 6 shots, untimed.
The 3 populace shoots were run as follows:
- Castle Window: At approximately 30 yards and timed (30 seconds); archers scored 1 point for each shot in the black slot of the window, 2 points if the shot hit the white Thor's hammer within the slot.
- Soldiers: 6 shots, untimed; the targets were pairs of frost giants at approximately 15, 35, 45 and 55 yards, worth 1, 2, 3 and 4 points, respectively; archers could shoot at any target they wished with their 6 shots.
Middle-East-Ealdormere

AEthelmearc-Atlantia-Allies

Points

Archers

Average

Points

Archers

Average

Clout

Sunday
1184
174
707
89
Monday
1255
145
866
153
Tuesday
1427
257
1304
233
Wednesday
1803
261
1027
201
Friday
754
* 111
272
* 47

Total

6423

948
6.77

4176

723
5.78

Castle Window

Sunday
232
167
291
140
Monday
340
188
246
135
Tuesday
518
284
535
286
Wednesday
561
287
263
236
Friday
185
* 104
111
* 66

Total

1836

1030
1.78

1446

863
1.68

Soldiers

Sunday
1674
218
975
132
Monday
1456
191
876
156
Tuesday
2054
269
1704
228
Wednesday
1856
289
1079
195
Friday
656
* 90
555
* 85

Total

7696

1057
7.28

5189

796
6.52
* Archers were not counted on Friday. To determine overall averages, the Friday count was estimated using the 4-day average points on each shoot.

Below are photos of the populace shoots.


(Populace archery photos were taken by Baroness Ygraine of Kellswood. Click to enlarge.)
Archery Champions Team Competition
(3 war points, shot Thursday, August 10, 2017)

Each side was allowed to select 30 champions team members and 10 alternates, for a total of 40. The Middle-East-Ealdormere side was made up of 14 champions and 5 alternates each from the Middle and East, plus 2 champions from Ealdormere. The winner of each of the 3 shoots, based on total points, earned 1 war point.
- The Roving Range consisted of 10 stations, 6 of which were timed shoots. In keeping with the Norse theme, the targets included hitting strands of Sif's hair, rescuing Brynhilde from the flames, visiting the worlds linked by Yggdrasil, and claiming Idun's apples. Also presented were a Celtic knot, Banshees, Swans, Bulls, Mice and Dice. The mice were especially challenging, as they could barely be seen in the grass. In the Dice shoot, each archer had 3 foam dice to roll, and hits earned the points represented by the dots on the side hit; this resulted in disproportionately high total points compared to the other shoots, but this did not unduly affect the outcome of the war point as the totals for each side were very close.
- Friend/Foe: this traditional timed shoot at about 30 yards called for archers to hit the the serpent for +2 points without hitting Thor or his hammer for -1 point.
- Long Distance: all team members took 3 shots each from 4 different unknown distances estimated to be between 130 and 55 yards; the giant from the regular clout shoot, and four of the frost giants from the soldiers shoot, were lined-up on the front wall of the clout. Hits on the frost giants scored 2 points; hits on the giant earned 3 points; hits in the giant's kill zone were worth 4 points; hits on the target backings or in the drop-zone in front of the targets scored 1 point.
Middle-East-Ealdormere

AEthelmearc-Atlantia-Allies

Points

Average

Points

Average

Roving

2123
70.77
2303
76.77

Friend/Foe

153
5.10
167
5.57

Long Distance

432
14.40
365
12.17
Here is a picture of the Middle-East-Ealdormere team members and alternates.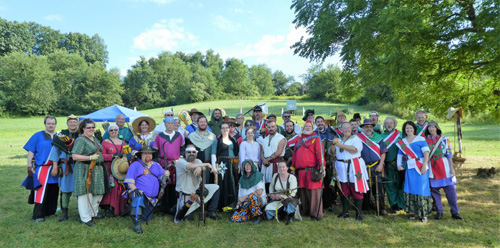 Photo by Baroness Arlyana van Wyck. (Click to enlarge.)
The East Kingdom team members were:
Godric of Hamtun – Captain General of Archers
Colin Ursell – Deputy Captain of Archers
Kusunoki Yoshimoto – Queen's Archery Champion
Siobhan ingean Cormaic – King's Archery Champion
Rupert the Unbalanced
Li Kung Lo

(was unable to participate)

Nest verch Tangwystel

(alternate, shot in place of Li)

Treya min Teanga
Ygraine of Kellswood
Shi Tian
Mikjall Bogmadr
Kieran Bren of Bannockburn
Meruit Kieransdottir
Peter the Red
Nathaniel Wyatt
The East Kingdom alternates were:
Cathain
Eoin an Doire
Kobayashi Yutaka
Aaron the Arrowsmith
While the list of Midrealm team members is not known to this reporter, Dorigen of Lewes (Baron BBM) was included in their number, as he is a former resident of the Mid and holds their archery award of the Dragon's Barb.
As ever, if I have a name wrong, please let me know so I can correct it!