Pennsic XLIV (2015) Archery Results
Games of Thrones and Deathstars!
This year's War was a contest between the combined forces of the East and Midrealm and AEthelmearc and her allies. The "AE Team" took the archery champions team war point, but the Mid/East forces won all six populace archery war points.
Populace War Points
(6 war points, shot over 4 days, August 2 thru 6, 2015)
Archers could shoot each of the 3 shoots up to 4 times this war. Shooting days were Sunday, Monday, Tuesday, and Thursday, 11am to 5pm.
The 3 populace shoots were run as follows:
- Flayed Man: At approximately 30 yards and timed (45 seconds); archers scored 1 point for each shot in the white "skin" of the Flayed Man, 2 points if the shot hit red of the image.
- Clout with Villains and Dragons: Shots landing inside the square castle turret were worth 3 points; shots hitting the villains in the turret -- Melisande, Circe Lannister and Joffrey Barathian -- were worth 4 points; there was a "moat" at approximately 50 yards worth 1 point, with two dragons in it worth 2 points; 6 shots, untimed.
- Advancing Enemies: 6 shots, untimed; targets were White Walkers at approximately 15, 25 and 45 yards, worth 1, 2 and 3 points, respectively, and Tyrion Lannister at 55 yards, worth 4 points; archers could shoot at any target they wished with their 6 shots.
East/Mid
Points
AEth.& Allies
Points

Flayed Man

3895
3855

Clout

4048
3755

Advancing

6620
5537
Below are photos of scoring on the Advancing White Walkers and Tyrion range, shooting the Clout, and shooting and scoring on the Flayed Man range.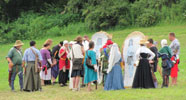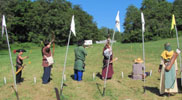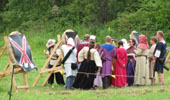 (Populace archery photos were taken by Baroness Ygraine of Kellswood. Click to enlarge.)
Archery Champions Team Tournement
(1 war point, shot Wednesday, August 5, 2015)

Before the tournement began, the Queens of the East and the Midrealm presented Their champions favors to each team member and alternate. Then, a brief East Kingdom Court was held, wherein Their Majesties Omega and Etheldreda recognized Lord Miles Boweman's achievement of Grand Master Bowman ranking. They also recognized Master Rupert the Unbalanced as the newest Ludicrous Bowman in the East.
The East and Mid were each allowed to select 15 champions team members and 5 alternates, for a total of 40. The winner of this war point was the side which won 2 of the 3 shoots, and the winner of each shoot was determined by total points. The theme this year was Star Wars.
- The Roving Range consisted of 10 stations, laid out on the main archery ranges, all featuring very challenging targets. Several targets had to be hit while they were moving; many involved shooting a number of small targets before hits would count on a final target; a friend/foe shoot was presented as clearing an asteroid field without hitting the Millenium Falcon.
- Friend/Foe: this traditional timed shoot at about 30 yards called for archers to hit the the evil warrior for +3 points without hitting the "friendly" Jedis for -1 point.
- Long Distance: all team members took 2 shots each from 6 different unknown distances estimated to be between 130 and 35 yards; hits on the Death Star scored 1 point; hits in the exhaust port scored 3 points; hits on the outlying tie fighters scored 5 points; there was no scoring drop-zone and no background scoring areas.
East & Mid.
Points
East & Mid.
Average
AEth. & Allies
Points
AEth. & Allies
Average

Roving

1078
35.93
1185
39.50

Friend/Foe

191
6.37
185
6.17

Long Distance

200
6.67
209
6.97
Here is a picture of most of the East Kingdom team members and alternates, with King Omega and Prince Brennan, and a picture of most of our Midrealm team-mates.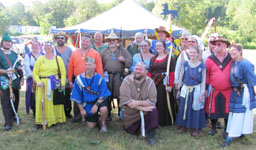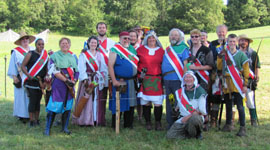 Below are photos of the Court business (new GMB Lord Miles Boweman and new Ludicrous Master Rupert the Unbalanced), scoring the long-distance Death Star shoot, and several of the roving range stations.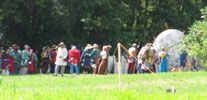 (Most Champ photos were taken by Lord Robert the Doubtful using Ygraine's camera. Click to enlarge.)
The Eastern team members and alternates were:
Cathain
Colin Ursell
Godric of Hamtun
Jehannine de Flandres
Kieran Bren of Bannockburn
Kusunoki Yoshimoto
Li Kung Lo
Macsen Felinfoel
Mark Squirrelsbane
Meruit Kieransdottir
Miles Boweman
Nathaniel Wyatt
Nest verch Tangwistel
Otto Gottlieb
Phillip Reed the Facetious
Rupert the Unbalanced
Siobhan Inghean Cormaic
Tamsin Whitlocke
Treya min Teanga
Ygraine of Kellswood
As ever, if I have a name wrong, please let me know so I can correct it!