Pennsic XL (2011) Archery Results
Populace War Points (3 war points, shot over 4 days, August 8 thru 12, 2011)
Archers could shoot each of the 3 shoots only once this war. Shooting days were Monday, Tuesday, Thursday and Friday. The numbers of archers were not recorded, only the points scored.
The 3 populace shoots were run as follows:
- Castle Window: At approximately 30 yards and timed (30 seconds); archers scored 2 points for each shot in the window slot.
- Clout with Moat Monster: Shots landing inside the 30' circle were worth 2 points; shots hitting the standing target in the center were worth 3 points; shots hitting the kill zone on the standing target were worth 4 points; there was a "moat" at approximately 50 yards worth 1 point, with a "moat monster" in it worth 2 points; 6 shots, untimed.
- Soldiers: 6 shots, untimed; targets were ranks of warriors at 15, 35, 45 and 55 yards, worth 1, 2, 3 and 4 points, respectively; archers could shoot at any target they wished with their 6 shots.
East & Allies
Points
Midrealm & Allies
Points
Monday:
186
106
Tuesday:
158
70
Thursday:
250
166
Friday:
142
132

Castle Window

Total:
736
474
Monday:
389
140
Tuesday:
339
193
Thursday:
444
342
Friday:
266
268

Clout

Total:
1438
943
Monday:
650
288
Tuesday:
660
402
Thursday:
896
644
Friday:
457
493

Soldiers

Total:
2663
1827
Archery Champions Team Tournement (1 war point, shot Wednesday, August 10, 2011)
This year there were two teams of 30, comprised of 20 archers from the home kingdom, and 10 allies, plus alternates. The winner of this war point was the side which won 2 of the 3 shoots.
- The Roving Range consisted of 10 stations, laid out on the main archery ranges (not in the woods). Wins by each team at each station were counted (not actual points).
- Friend/Foe: on a target at about 30 yards, archers had 30 seconds to hit a dragon (1 point) entwined around a tiger (negative point).
- Long Distance: all team members took 4 shots each from 3 different unknown distances estimated to be between 155 and 80 yards; there were multiple warrior targets worth 2 points for the illustration, or 1 point for the backstop surrounding it.
East & Allies
Points
East & Allies
Average
Mid. & Allies
Points
Mid. & Allies
Average

Roving

8
1
(1 tied)

Friend/Foe

50
1.667
27
0.900
(61 less 11)
(58 less 31)

Long Distance

167
5.567
92
3.067
Here is a picture of the East Kingdom and allies team, with King Lucan.
(Photo courtesy of Mistress Kayleigh McWhyte. Click to enlarge; 176KB.)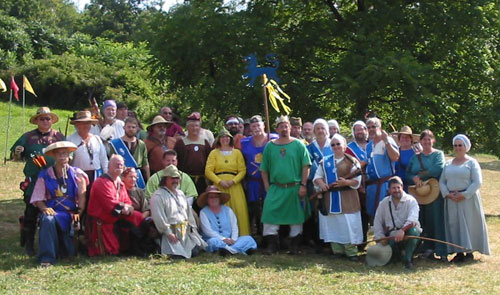 The East and allies team members were:
Aaron the Arrowsmith
Colin Ursell
Cynric the Dabbler
Collum Makiswell (Atlantia)
Denys the Decadent (AEthelmearc)
Emrys ap Cynydd
Erasmus Urswyc
Esperanza Susanna Flecha (Atlantia)
Ghijskjin Van den Vaerst (Atlantia)
Godric of Hamtun
Gregge the Archer (Atlantia)
Hobbe Young
Jehannine de Flandres
Jonathas Reinisch (Atlantia)
Karl von Koenigsburg (Atlantia)
Kieran Bren of Bannockburn
Krakken Gnashbone
Kusunoki Yoshimoto
Li Kung Lo
Macsen Felinfoel
Mark Squirrelsbane
Meruit Kieransdottir
Miles de Locwode (Atlantia)
Nathaniel Wyatt
Nest verch Tangwistel
Padraig O'Gealagain
Paul Spearman
Pearce Redsmythe (Atlantia)
Phillip the Facetious
Rupert the Unbalanced
Tamar Walshman
Tamsin Whitlocke
Treya min Teanga
Valgard av Mors (Atlantia)
Ygraine of Kellswood
As ever, if I have a name wrong, please let me know so I can correct it!