Consort's and Sovereign's Archery Championship May 29, 2022

The 16 finalists, retiring champs, with
Their Majesties Ryouko'jin and Indrakshi, and Princess Corotica.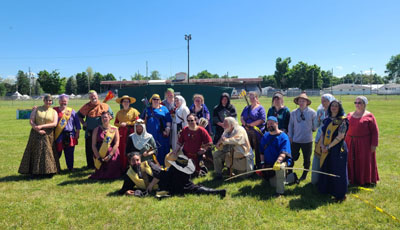 31 competitors gathered on Sunday, May 29, 2022, at Wars of the Roses in Concordia of the Snows. Their Majesties, Ryouko'jin and Indrakshi, addressed those who would vie for the honor of serving Them as Their Archery Champions. The retiring Sovereign's Champion, Master Aleksei Dmitriev, and Consort's Champion, Lady Julian Ridley, then got the day's shooting underway.

All participants shot three longer distance shoots together in the morning. These were a clout shoot at Kaiju in a Pagoda, a timed friend/foe shoot of a Man being attacked by a Kitsune, and four Indian Demons at various distances. After lunch, archers broke into smaller groups to rotate through eight stations. There were a Bamboo Forest (pool noodles), a Hunting Trip (shot through a window), an Indus Worm (a timed, reverse target), moving targets, Crows and a Golden Egg (on the ground), a friend/foe of a Blue Tiger entwined with a Green Dragon, hanging Indian Flowers, and Kali (with points for kills but MORE points for smaller grouping of shots). The wonderful images used for the targets were created by Mistress Eleanore MacCarthaigh.

Various photos from the day's shooting, plus the tiebreaker shoot-off.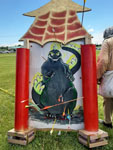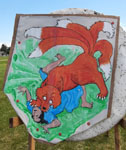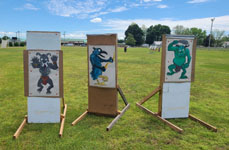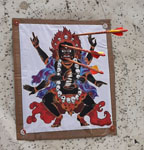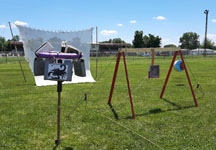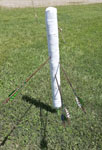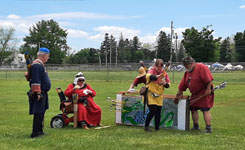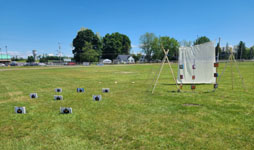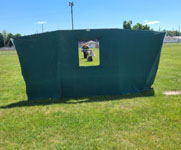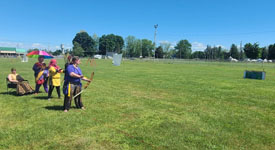 Scores were tallied and sorted. Competitors gathered and were reminded of the duties of Archery Champions by the outgoing Champions and the Royalty, and urged to step-out of the finals with honor if they could not fulfill these duties.

The following top scorers declined to participate in the finals:
Peter the Red (99)
Snorri (94)
Miles de Locwode (92)
Li Kung Lo (90)
Kusunoki Yoshimoto (89)
Treya min Teanga (81)
Matti Morgenstjarna (47)
There was a tie for the 16th spot in the finals, so a shoot-off was held between Brigitha in Kollramma and Kira of Carolingia; Kira prevailed.
Some shots of the final rounds.
The Queen and Princess congratulate Their new Champion, Ryan.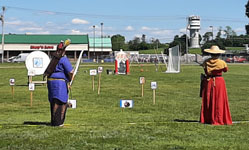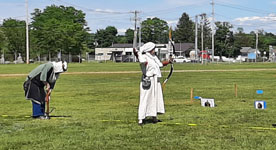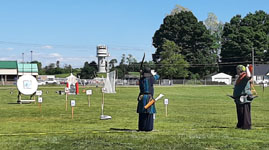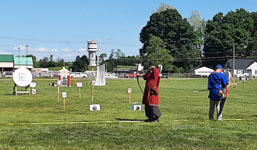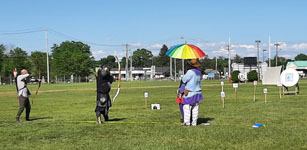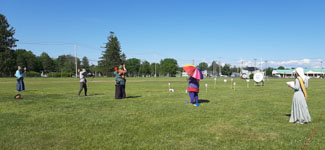 The 16 finalists competed in head-to-head pairings, per the chart below. The first archer to knock down all four of their serpent or mongoose targets and hit the heron target would advance to the next round. In the semi-final round, Lord Ciaran made a spectacular shot which hit TWO targets, to the delight of the King. In the final round, the victor proved to be Master Ryan MacWhyte, and he was declared the Consort's Champion. In Court, Lord Ciaran ui Meic Thire was announced as Sovereign's Champion. The outgoing Champions were thanked for their long service (since before the pandemic!) and the new Champions were hailed.
| | | | | | |
| --- | --- | --- | --- | --- | --- |
| | Top 16 | Quarter-Finals | Semi-Finals | Finals | |
| 1 | Cathain Reiter (89) | | | | |
| 16 | Kira of Carolingia (39) | Cathain | | | |
| 2 | Mikjall Bogmadr (84) | | Mikjall | | |
| 15 | Lada Monguligin (41) | Mikjall | | | |
| 3 | Ryan MacWhyte (79) | | | Ryan | Winner |
| 14 | Melmyra (46) | Ryan | | | |
| 4 | Ellynor Redpath (68) | | Ryan | | |
| 13 | Matteo Genovese (52) | Matteo | | | |
| 5 | Sojourner van Haarlem (66) | | | | |
| 12 | Broccin MacIvyr (54) | Sojourner | | | |
| 6 | Ciaran ua Meic Thire (66) | | Ciaran | | |
| 11 | Safiya al-Naghira (55) | Ciaran | | | |
| 7 | Macsen Felinfoel (45) | | | Ander | 2nd |
| 10 | Kay Leigh MacWhyte (62) | Macsen | | | |
| 8 | Ygraine of Kellswood (64) | | Ander | | |
| 9 | Ander Tynegate (64) | Ander | | | |
Photos by Lady Safiya al-Naghira and Baroness Ygraine of Kellswood.
(Click on thumbnails to see larger versions.)